Bi-fuel evolution: LEVC's VN5 van and TX taxi run on alternative fuels
At Prins Autogassystemen we are constantly working on developing high-quality alternative fuel systems for existing and new applications. The fact that we provide sustainable and reliable solutions for most modern direct injection (DI) engines and other technologies, distinguishes us from the competition.
Quality, Innovation and Customer Care, it's in our nature.
Our latest innovation is a result of the successful collaboration between taxi rental firm HP Taxi, engine research and development consultancy SBL-Automotive and Prins. We converted the hybrid taxi to drive on the cleaner alternative fuels: LPG / biopropane and CNG / biomethane. Which also results in reducing fuel costs, and therefore is beneficial to many fleet operators.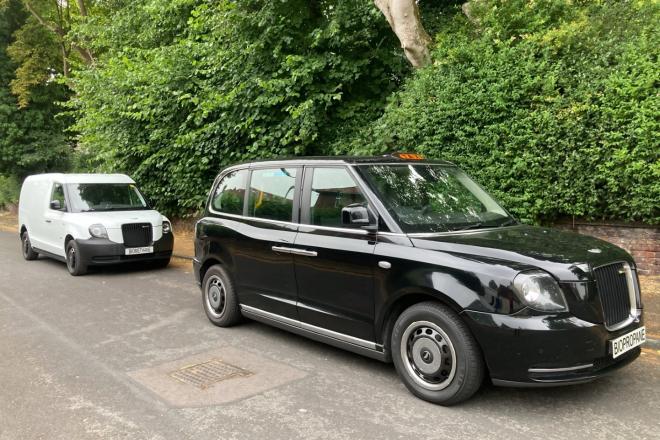 The LEVC VN5 van and its TX taxi hybrid vehicles are manufactured by London EV Company (LEVC). Both taxi and van are equipped with a Volvo 3-cylinder DI (Direct Injection) petrol engine, that serves as a so called "range extender". So unlike most other hybrid technologies, these unique cabs aren't running on petrol to power the vehicle. Instead, the combustion engine generates electricity and acts as a power generator to supply the electrical motor.
This e-City range-extender technology - seen in LEVC's TX taxi and VN5 van - combines a 31 kWh lithium-ion battery with a three-cylinder petrol engine as a range extender. This results in an electric-only range of 58 miles (93 km) and a total range of 300 miles (484 km).
The vehicles were already positioned as a cleaner alternative to diesel vans. Only the new partnership has evolved the VN5 and TX even further.
The range extender is now no longer relying on the use of petrol, but can also run on alternative fuels like LPG / biopropane and CNG / biomethane. Allowing fleet operators to reduce both emissions and fuel costs.
Reduce emissions and operational costs
The range-extender engine has been modified to use of alternative fuels rather than petrol. This results in a decrease of carbon emissions of 10% when LPG is used, and 20% when CNG is used. Using renewable fuels like biopropane (instead of LPG) or biomethane (instead of CNG), will reduce CO2 emissions up to 99%. Biomethane and biopropane can be made from waste products, such as farm and food waste, sewage and feedstocks.
Because biomethane and biopropane are drop-in replacement for CNG and LPG, there are no changes required to the refueling infrastructure nor to a vehicle already equipped with a bi-fuel system. These alternative fuels - which are already available today - can result in 30-50% operational cost savings.
The bi-fuel system consists of the following components:
LPG / biopropane fuel tank or CNG / biomethane fuel tank
LPG / biopropane vaporizer or CNG / biomethane pressure regulator (both warmed by engine coolant)
Gaseous fuel injectors
Bi-fuel ECU
| | | |
| --- | --- | --- |
| |   | |
| Engine compartment of a bi-fuel LPG / biopropane LEVC TX/VN5 |   | 50 litre LPG / biopropane tank in the boot of the TX |

Increased operational range
Since the original petrol tank is retained, the range of the vehicles increases. When powered by a range-extended engine, the operating range of the hybrid vehicle increases by about 70% with CNG / biomethane and even up to 90% when using LPG / biopropane. Resulting in a total range of 606 miles (975 km) for the bi-fuel CNG / biomethane evolution and 670 miles (1.078 km) for the bi-fuel LPG / biopropane evolution.
Different fuel tank solutions are being developed for the VN5, including placing the tanks under the floor rather than in the payload area.
The expected return on investment period is 12 to 18 months. This is also depending on the amount of miles traveled, the kilometers per liter obtained, future fluctuations in fuel prices and the conversion costs still being in development. Even further savings can be expected as fuel prices of biomethane and biopropane drop, as production volumes continue to ramp up.
All three companies are also collaborating with fuel manufacturers and suppliers to expand the existing network of refueling CNG, biomethane, LPG and biopropane.
Click to see more images of the vehicles and LPG/CNG system.