Audi Q3 on LPG (autogas) - an economic solution
Angelique: "I have been working at Prins Alternative Fuel Systems, now called Westport Fuel Systems Netherlands, in Eindhoven for years. Let me tell you about my experience with driving on LPG (autogas)."  
Economic advantage of LPG compared to petrol
I can say that over the years I have built an extented experience with driving on LPG. Back in the early 80's, my father already drove on Autogas with his car. LPG remains an economic fuel: refueling LPG is still 50% cheaper compared to petrol. A couple years ago I bought myself an Audi Q3, and got this converted to LPG. Driving about 20.000km a year, I take advantage of the savings on fuel cost!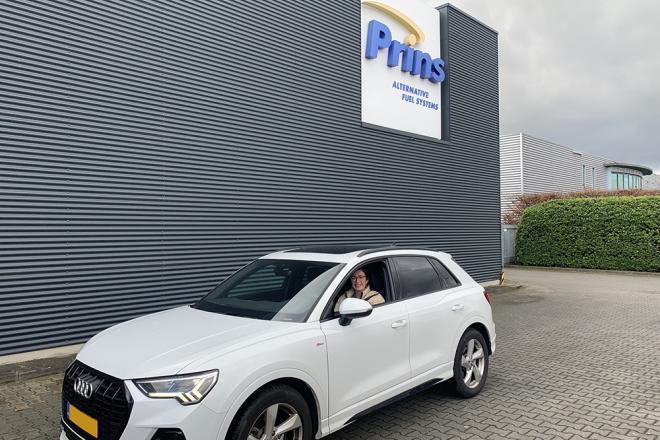 Saving money with LPG (autogas)
I feel comfortable driving on LPG. It makes me save money on fuel costs, and contribute to a cleaner environment. LPG reduces exhaust emissions such as CO2, Particles and NOx compared to petrol and diesel. Furthermore, the LPG-installation never caused any issue. Refueling LPG is easy and quick, and all trunk space remains since the 66-liter LPG tank is installed in the spare wheel compartement. 
For me, my car provides freedom; it enables me to hit the road at any time. In The Netherlands we have plenty of gas stations to refuel. Also in Europe the LPG fueling infrastructure is well presented. In addition, the possibility to switch to petrol remains, so no worries for me! 
Prins has a fleet of several LPG cars; old and new, big and small. These cars can be used when traveling for business, and are well tested by all kind of LPG drivers, whose experiences contributes to continuously improving the Prins LPG system. LPG cars can be used for hundreds of thousands of kilometers. 
To sum up: I can only recommend driving on LPG; it is an alternative fuel which offers advantages. 
Interesting?